B4i Startup Call
is open
Submit your application to the Acceleration and Pre-Acceleration programs.

Deadline: January 7th, 2024.
Apply now
Connect with B4i
Get involved with the innovation ecosystem
B4i looks for dynamic entrepreneurs, disruptive startups, forward-looking corporates, skilled and motivated professionals and curious individuals who we aim to support in their quest for valuable innovation. We offer resources and build opportunities to help entrepreneurs and businesses grow.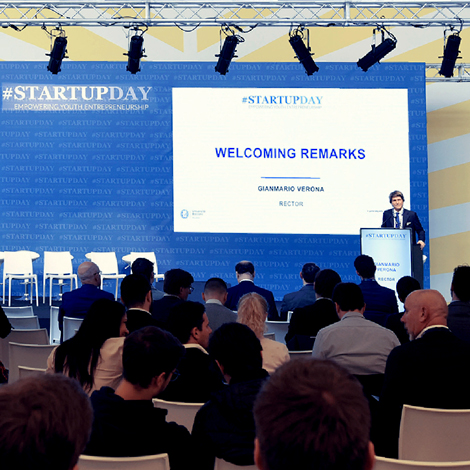 Grow
your startup
If you have an innovative startup or idea that can solve real market problems, then we're ready to invest the experience, knowledge, time and resources of the wider Bocconi community in you and your team.

Find out more about our Pre-Acceleration and Acceleration programs: twice a year you can submit your application to become part of the B4i startup community.

PRE-ACCELERATION PROGRAM
ACCELERATION PROGRAM
Join our watchlist
Become
a Mentor
Being a mentor is an engaging way of sharing your skills, supporting innovative startups and expanding your business network. B4i is always looking for experienced and willing professionals ready to get involved and contribute to the development of business innovation.

Find out what B4i offers and what it takes to join it.

Learn more
Apply as a mentor
Become
an Alumnus Angel
If you are a Bocconi Alumnus interested in scouting and investing in early stage companies on an individual basis, consider becoming an Alumnus Angel. Since most of our startups begin looking for funding as they complete the Acceleration program, we are opening a communication channel to provide selected information to angel investors within the Alumni community, facilitating opportunities with entrepreneurs.

Learn more
Register as Alumnus Angel
Students
Office Hours
If you are a Bocconi student who is interested in pursuing an entrepreneurial path but has doubts about how to get started, looking for suggestions, or want to know the possibilities that B4i can offer to develop your startup, you can book a 1:1 meeting with our team.
In short:
The Office Hours are open to all Bocconi students, you can participate on your own or in a team (at least one participant must be a Bocconi student).
Each slot has a duration of 20 minutes, so be prepared with a list of topics you want to address.
The Office Hours are held online every 2 weeks.
How to participate:

Login to your yoU@B account and book your slot!
Go to yoU@B
Were you looking for something else? Write to us.
For further information, questions and proposals,
please send us a message and we will reply as soon as possible.